This winter a wide path illuminated by lanterns snakes its way from the Far East.
Along that path a colourful parade of Japanese animations is already on its way to the North!
The darkest season's most dazzling concert is coming!

Choir
Unreality is a Helsinki-based mixed choir, founded in January 2014. This choral society is the first Finnish choir to sing music exclusively from movies, TV series, video games and animations. Unique choral arrangements and the blazing orange dragon are their trademarks – time after time they take the listener to beloved sceneries beyond reality and back again. Unreality holds concerts biyearly and is often seen performing at conventions that gather thousands of visitors, including Tracon, Desucon Frostbite, Yukicon, Ropecon and Popcult Helsinki. Their greatest milestones have been the international events Helsinki Game Music Festival and Worldcon 75. Their small group, Nanoreality, is also actively doing gigs in events of all kinds. The choir's artistic director is Jari Koivistoinen.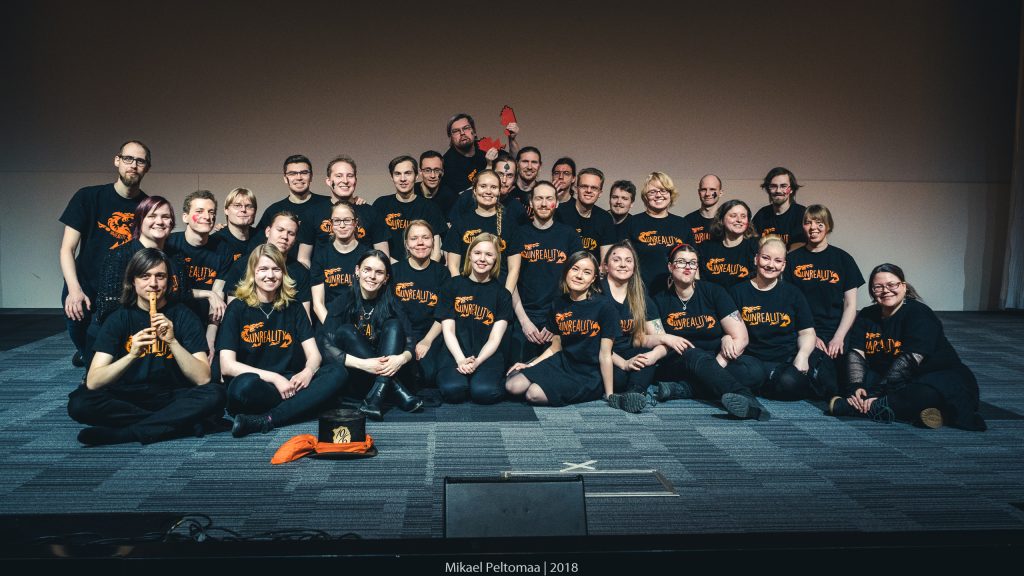 Sopranos
Hanne Aho
Timja Aunola
Ninja Kotkalaakso
Sirpa Kovanen
Raisa Lehtinen
Siru Rissanen
Kai Salo
Saara Seppälä
Sara Väätäjä
Altos
Ruska Berghäll
Riikka Kuusinen
Kata Mertanen
Siru Nevalainen
Vanessa Sjögren
Auri Tuominen
Jenna Turkumäki
Elina Vainikainen
Tenors
Antti Havukainen
Olli Huotari
Eljas Hyyrynen
Aleksi Leinikki
Rasmus Lång
Noel Rosbäck
Samuli Sorvakko
Aurora Tulilaulu
Paul Vuorela
Basses
Eero Heikkinen
Fabian Krahl
Antti Kumpulainen
Niklas Lehtinen
Risto Linna
Jaakko Mattila
Esa-Pekka Pyökkimies
Ilari Sinkkonen
Sampo Syrjänen
Teemu Vaittinen
Jari Koivistoinen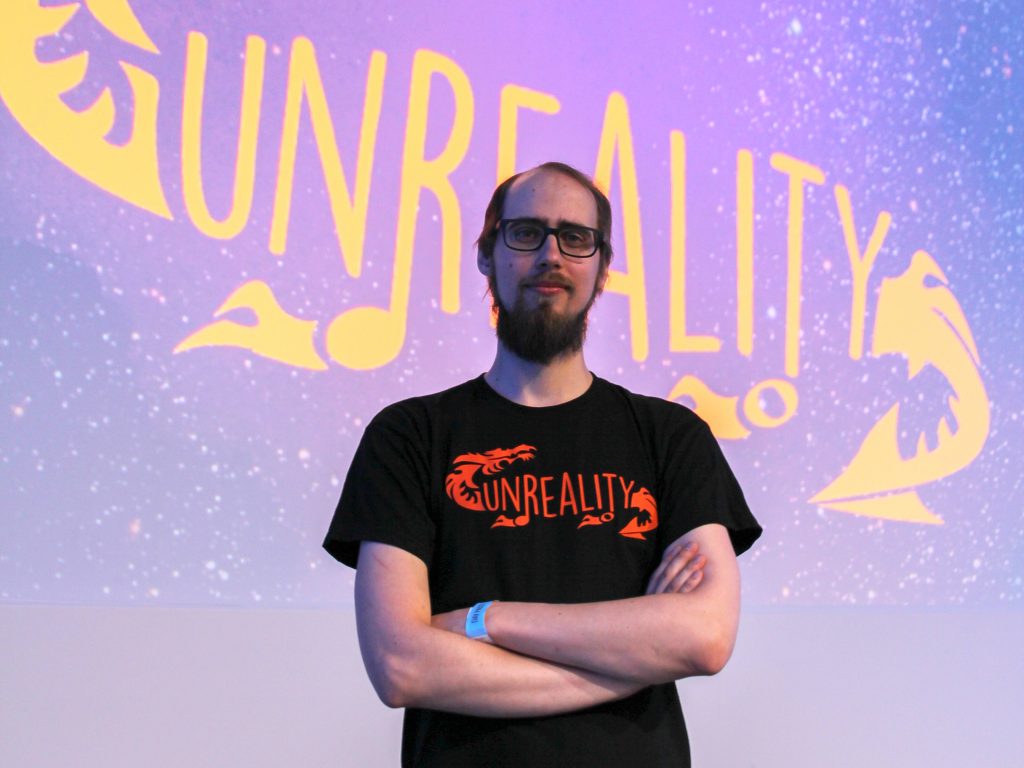 Jari Koivistoinen is a Helsinki-based conductor and musician, with choral experience ranging from small professional ensembles to large-scale groups.
In addition to Unreality, Jari is artistic director at student choir Uvula Aurea, and acts as assistant conductor for Tapiola Chamber Choir and Kampin Laulu. He also works at boys' choir Cantores Minores, and has also worked with a great number of choirs in the Helsinki region (f.ex. Murtosointu, Manifestum male voice chorus, Kumpulan kuoro, Helsinki Police Singers). In addition to conducting, he also works as a freelance church musician in a number of Helsinki parishes, and is also otherwise active in the field of music, acting as pianist, chamber musician, singer, composer & arranger.
Jari is a major fan of all things cultural, be it movies, games, visual arts or standup comedy. His journey with Unreality began in the spring of 2017.
Concert Program
Sanpo
My Neighbor Totoro
Music: Joe Hisaishi
Lyrics: Rieko Nakagawa
Arr. Ilari Sinkkonen

Sis Puella Magica!
Puella Magi Madoka Magica
Music: Yuki Kajiura
Arr. Matias Kylliäinen

Solo: Ilari Sinkkonen
Miserere Nostri, Domine
Junketsu no Maria
Music: myu
Lyrics: Youhei Matsui
Arr. Matias Kylliäinen

Solo: Kata Mertanen
The Legend of Zelda Medley
The Legend of Zelda
Music: Koji Kondo
Arr. Aurora Tulilaulu
We Are!
One Piece
Music: Kohei Tanaka
Lyrics: Shoko Fujibayashi
Arr. Sampo Syrjänen
For Fruits Basket
Fruits Basket
Music: Ritsuko Okazaki
Arr. Sampo Syrjänen
Kiseki no Umi
Record of Lodoss War
Music/Lyrics: Yoko Kanno, Yuuho Iwasato
Arr. Ruska Berghäll
Pokémon Theme
Pokémon
Music: John Siegler and John Loeffler
Arr. Tuomas Valtonen
Bratja
Fullmetal Alchemist
Music: Michiru Oshima
Arr. Ruska Berghäll
A Beautiful Song
NieR: Automata
Music: Keigo Hoashi, Keiichi Okabe
Arr. Sampo Syrjänen

Solo: Kai Salo, Riikka Kuusinen
Zankoku na Tenshi no Thesis
Neon Genesis Evangelion
Music: Hidetoshi Satō
Lyrics: Neko Oikawa
Arr. Ruska Berghäll