Unreality Fans Åut – Turku 31.8.2019
Choir
Jari Koivistoinen
Concert Program
Concert tickets available at Holvi
Unreality's anniversary tour greets new venues and audiences along the way. For the first time ever, the choir reaches out to the western coast and holds a concert in Turku! A blazing fan of choir music inspired by pop culture spreads across the land via Tampere and unfolds in its full glory in the main concert in Helsinki. Under the dragon's smoldering wings, the choir is directed by Jari Koivistoinen.
Choir
Unreality is a Helsinki-based mixed choir, founded in January 2014. This choral society is the first Finnish choir to sing music exclusively from movies, TV series, video games and animations. Unique choral arrangements and the blazing orange dragon are its trademarks – time after time they take the listener to beloved sceneries beyond reality and back again. Every year Unreality performs at massive conventions and the long list of conquests includes events such as Tracon, Ropecon, Helsinki Game Music Festival, Worldcon 75 and a joint concert with Helsinki Symphonic Winds. Additionally, the choir holds concerts twice a year and its small group, Nanoreality, is also actively doing gigs in events of all sizes. The choir's artistic director is Jari Koivistoinen.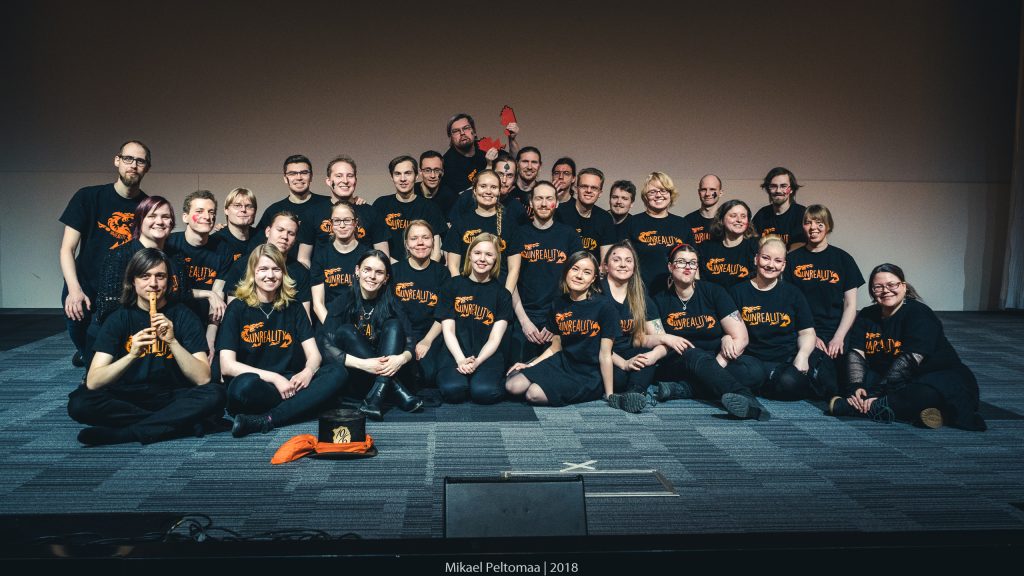 Sopranos
Hanne Aho
Timja Aunola
Ninja Kotkalaakso
Sirpa Kovanen
Viivi Kuosa
Raisa Lehtinen
Pipariina Lehtonen
Kai Salo
Saara Seppälä
Altos
Ruska Berghäll
Maria Djakonowsky
Riikka Kuusinen
Kata Mertanen
Siru Nevalainen
Vanessa Sjögren
Auri Tuominen
Jenna Turkumäki
Elina Vainikainen
Eeva Vesaoja
Tenors
Antti Havukainen
Olli Huotari
Aleksi Leinikki
Noel Rosbäck
Oliver Tompuri
Aurora Tulilaulu
Paul Vuorela
Basses
Eero Heikkinen
Fabian Krahl
Niklas Lehtinen
Risto Linna
Jaakko Mattila
Esa-Pekka Pyökkimies
Ilari Sinkkonen
Sampo Syrjänen
Teemu Vaittinen
Nanoreality
Sopranos
Hanne Aho
Ninja Kotkalaakso
Viivi Kuosa
Kai Salo
Altos
Ruska Berghäll
Riikka Kuusinen
Vanessa Sjögren
Elina Vainikainen
Tenors
Antti Havukainen
Aleksi Leinikki
Noel Rosbäck
Aurora Tulilaulu
Basses
Niklas Lehtinen
Risto Linna
Jaakko Mattila
Sampo Syrjänen
Jari Koivistoinen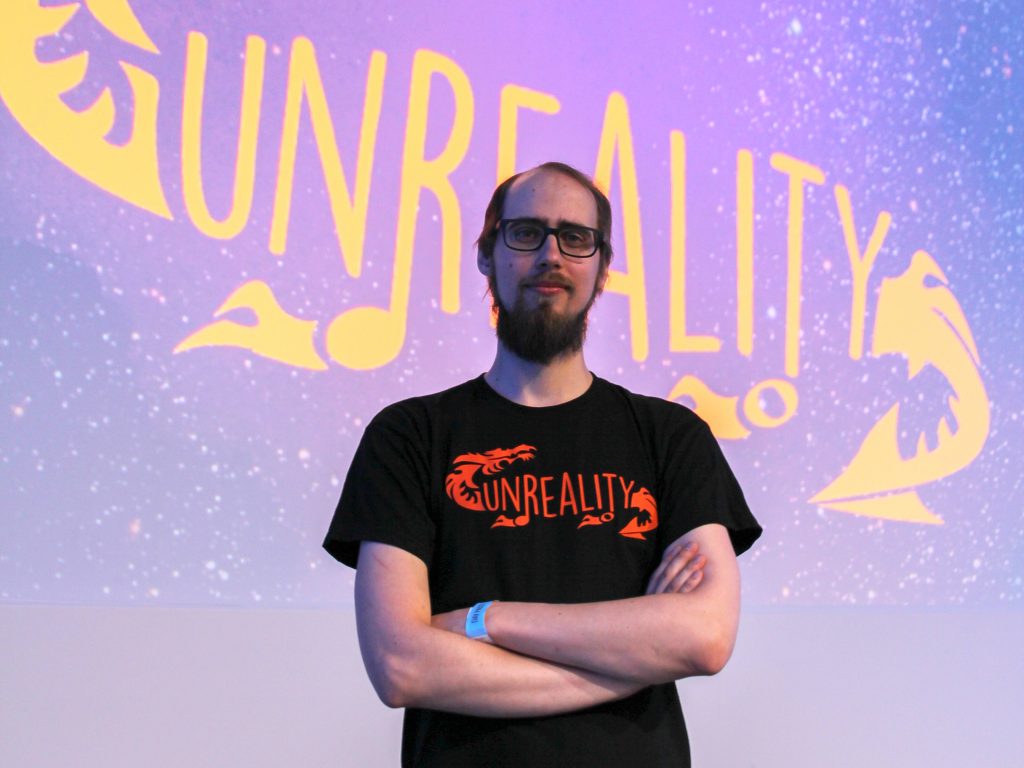 Jari Koivistoinen is a Helsinki-based conductor and musician, with choral experience ranging from small professional ensembles to large-scale groups. A student of conducting at the Sibelius Academy in Helsinki, he completed his diploma concert in choral conducting in the spring of 2019.
In addition to Unreality, Jari is the choir master at The Helsinki Philharmonic Choir, and acts as assistant conductor for Tapiola Chamber Choir and Kampin Laulu. He is also a trainer in the Helsinki Cathedral boys' choir Cantores Minores, and has also worked with a great number of choirs in the Helsinki region (f.ex. Helsinki Music Center Chorus, Murtosointu, Manifestum male voice chorus). In addition to conducting, he also works as a freelance church musician in a number of Helsinki parishes, and is also otherwise active in the field of music, acting as pianist, chamber musician, singer, composer & arranger.
Jari is a major fan of all things cultural, be it movies, games, visual arts or standup comedy. His journey with Unreality began in the spring of 2017.
Concert Program
DuckTales Theme
DuckTales
Music/Lyrics: Mark Mueller
Arr. Niklas Lehtinen, Sampo Syrjänen
Kiseki no Umi
Record of Lodoss War
Music/Lyrics: Yoko Kanno, Yuuho Iwasato
Arr. Ruska Berghäll
In Dreams
The Lord of the Rings: The Fellowship of the Ring
Music: Howard Shore
Lyrics: Fran Walsh
Arr. Peik Aspbäck, Samppa Leino
Solas
Dragon Age: Inquisition – Trespasser
Music: Trevor Morris
Arr. Ruska Berghäll

Soloists: Viivi Kuosa, Ruska Berghäll, Antti Havukainen, Sampo Syrjänen
Gravity
Wolf's Rain
Music: Yoko Kanno
Lyrics: Troy
Arr. Timo Vehviläinen

Soloist: Maria Djakonowsky
Sanpo
My Neighbor Totoro
Music: Joe Hisaishi
Lyrics: Rieko Nakagawa
Arr. Ilari Sinkkonen
Rainbow Connection
The Muppet Movie
Music/Lyrics: Paul Williams, Kenneth Ascher
Arr. Tomi Jylhä-Ollila
Miserere Nostri, Domine
Junketsu no Maria
Music: myu
Lyrics: Youhei Matsui
Arr. Matias Kylliäinen

Soloist: Ruska Berghäll
For Fruits Basket
Fruits Basket
Music/Lyrics: Ritsuko Okazaki
Arr. Sampo Syrjänen
A Hero Comes Home
Beowulf (2007)
Music/Lyrics: Glen Ballard, Alan Silvestri
Arr. Ruska Berghäll

Small group: Nanoreality
You've Got a Friend in Me
Toy Story
Music/Lyrics: Randy Newman
Arr. Sampo Syrjänen
ICO -You Were There-
ICO
Music: Michiru Oshima
Lyrics: Lynne Hobday
Orig. arr. Video Games Live
Arr. Sampo Syrjänen

Soloists: Kai Salo, Oliver Tompuri

Special thanks to all collaborators who made this anniversary tour possible!
Maa ja ilma ry